November has been declared "No Shave Movember" for Auburn Hills Police and Fire.  For the last several years we have deviated from our strict appearance rules to allow beards for this month only to raise funds for men's health .  Our charity is the Movember Foundation which supports men's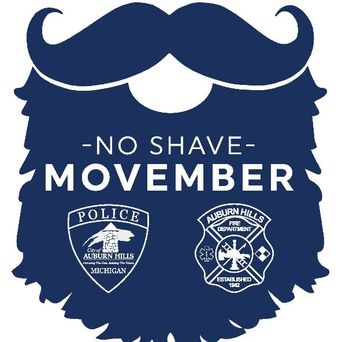 health initiatives.   Prostate cancer  and  testicular cancer take the lives of too many men, too soon.  And 3 of 4 suicides in the US are men.  More can be done to address these important male issues.  Movember brings attention and raises money for the cause.
Our women officers and staffers in support of our husbands, boyfriends, fathers, brothers, sons, colleagues, friends and co workers are wearing a blue stripe in our hair for a donation this month only.
We will be posting pictures on our Facebook and Twitter accounts of how the beard and stripe action is going.  If you get a photo with one of our people post it to show support.  If you are moved to donate the link above will take you to our team page.